EDUCATING LATINOS ABOUT ISLAM
We pray this reaches you in the best of health and high emaan, ameen.
IslamInSpanish 
has been working non-stop on varies projects these past few weeks. We are now streaming LIVE via our
IslamInSpanishTV
YOUTUBE Channel our Spanish Classes, Friday Khutbahs and this weekend our first Spanish Seminar will be taking palce, in shaa Allah. We would like to take this moment to inform you and thank you for your continued
support
!
Esperamos que se encuentren en buen estado de salud y con alta fe, ameen.
IslamInSpanish
a estado trabajando en varies projectos estas varias semanas. Toda nuestra programacion (Clases en Espanol, Semones y Seminarios) se esta transmitiendo via nuestro canal de YOUTUBE
IslamInSpanishTV
Nos gustaria tomar este momento para agradecerles por su
apoyo
!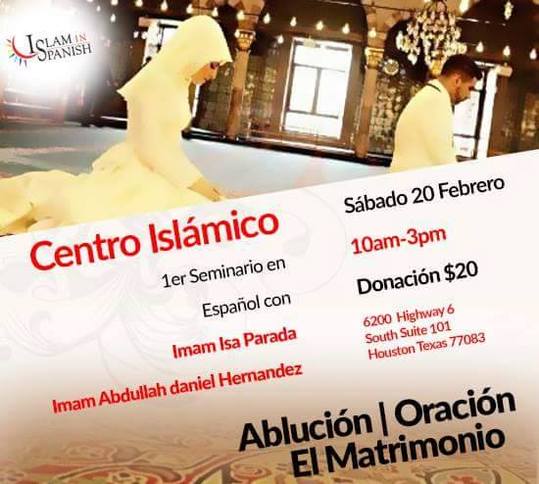 IslamInSpanish Centro Islámico presenta…
El 1er Seminario en Español –
Titulado: La Ablución, Oración y El Matrimonio
Instructores: Imam Isa Parada y Imam Abdullah Daniel Hernandez 
Este seminario es basado en el 1er Libro Estudios Islámicos
Este libro es parte de un currículo que comprende cuatro años de Estudios Islámicos. Cada libro cubre conocimientos islámicos básicos incluyendo Tauhîd (monoteísmo islámico), el estudio del Corán y el Hadiz y las fuentes y enseñanzas de la ley islámica (fiqh)
Sesión #1 El Wudu: La Ablución 
1. Virtudes de la Purificación
2. Actos que anulan la Ablución
3. Estructura de la Ablución
4. La Ablución en Practica
Sesión #2 Salah: La Oración 
1. Importancia y Virtudes
2. Condiciones
3. Actos que anulan la Oración
4. La Estructura de la Oración
5. Virtudes de la Prostración

Sesión #3 Surah Al-Fatiha
1. Virtud
2. Repetición
3. Asignación y Deberes
Sesión #4 Tema Contemporaneo "El Matrimonio"
Transmitido en Vivo via Nuestro chanal en YouTube IslamInSpanishTV suscribirte in shaa Allah!
Lugar: IslamInSpanish Centro Islámico, 6200 Highway 6 South, Houston TX 77083
Fecha: Sábado, 20 de Febrero 2016
Hora: 10:00 AM – 3:00 PM
Más Información: nahela@IslamInSpanish o visita www.IslamInSpanish.org
Boletos o Donación: $20.00 (material)
Aquí:https://goo.gl/CqM6aY